A guide to buying medical scrubs by Alexandra
As the country comes out of lockdown, more people in the medical, care, and beauty industries are being advised to wear scrubs clothing for protection.
This means that many will be buying these types of clothes for the first time, and with so many styles available it can be hard to know which to choose.
That's why Alexandra have put together this scrub guide. It will tell you what scrubs are, what scrub options are available and how you can find the right ones for your staff, your business and yourself.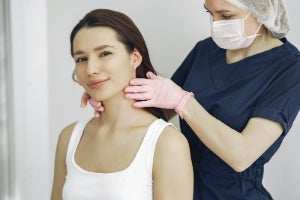 Why do people wear scrubs?
Scrubs are a type of clothing designed to be worn in medical settings because they help prevent the spread of infection. By forming a protective barrier between the wearer and potentially hazardous substances, they reduce the risk of infection and reduce the spread of contaminants.
Scrubs are designed to be easy to wear, loose-fitting so they don't restrict movement and easy to wash at high temperatures to help with infection prevention and control.
The scrub style came to the UK in the early 2000s and quickly began to be worn by surgeons and some nurses. It is thought the change from traditional nursing tunics to scrubs was influenced by the American medical dramas – such as ER and Scrubs – which had become hugely popular in the UK at the time.
Scrubs were originally only used by the NHS and private hospitals. Since Covid-19 all healthcare industry workers are being asked to wear them.
Who wears scrubs?
Since the Covid-19 pandemic, the number of roles wearing scrubs has greatly increased:
Theatre Staff

– Scrubs are quick and easy to change in and out of to be swapped between patients and are comfortable and non-restrictive for the precise movements needed in the operating theatre. Scrubs can be washed at a very high temperature to combat infection control.

Nurses

– With the same benefits as above, scrubs can be worn by ward nurses as an alternative to the traditional nursing uniform.

Patients

– In some areas, they can be used as patient wear to help with dignity; they can be worn as pyjamas instead of traditional gowns.

Beauticians

– When the beauty and hair industry reopens, staff are being encouraged to wear scrubs to help infection control.

Care workers

– With a greater focus on infection control, carers are being encouraged to swap to scrubs from tunics and polos to help combat Covid-19.
Scrub Separates
Separate tunic and scrub trousers that can be mixed and matched.
Unisex and perfect for any healthcare situation, whether you need to be in one colour from head-to-toe or in places you don't want both tunic and trousers to be the same colour. The latter is a great option for businesses that prefer darker colour trousers.
60º washable in line with infection control standards.

Tunic has one chest and two hip pockets & side vents for keeping cool.

Trousers have an elasticated drawstring waist and one back pocket.
Available in a range of colours and with personalisation options.
Contrast Trim Scrubs
Becoming more popular in the NHS over the last few years, these contrast trim scrubs are a great alternative to the traditional nursing tunics. Made in both male and female cuts, their trim is available in a range of colours that can be used to denote a person's role.
These can also work well in the beauty, hair and care industries where the trim allows businesses to match the colour to their brand.
The tunic has a concealed waterproof chest pocket and two hip pockets.

60ºC washable in line with infection control standards.

Available in a

range of colours

and with personalisation options.
Scrub Personalisation
The scrubs sold by Alexandra have a variety of ways you can personalise them:
Colours

– Every scrub design has a

range of colours

available which can be used to denote roles or promote your brand using its colours.

Personalisation

– The scrubs can be easily

embroidered or printed

with your business' name, logo or staff names to offer brand identity, or they can promote a clear safety message such as social distancing.

Fitting

– Alexandra have a team of expert fitters who can ensure your scrubs reach you in exactly the right size.
What to wear with your scrubs?
3 Ply Face Mask
Designed to reduce the spread of bacteria and aid the defence of the spread of infection, this reusable face mask with an antibacterial finish that lasts up to 30 washes.
For use in non-clinical settings.

Made with breathable fabric and moisture-wicking to keep vapour away from the skin.
Footwear to wear with your scrubs
Footwear suitable for clinical and non-clinical staff
TofeIn EziKlog
Perfect for medical staff to complete their scrub outfit, these ToffeIn lightweight clogs have an anti-microbial finish and a slip-resistant grip to keep you comfortable and safe during your shifts.
No-laces design makes it easy to wash for infection control.

Adjustable heel strap which can be worn in a forward or back position.

Closed-in heel designed to hold the heel securely.

Thick sole for penetration resistance.

Side vents to stop fluid penetration.
Footwear suitable for non-clinical staff
Those working in social care and the beauty and hair industries have a wider range of shoes to choose from.
Lace-Ups
Alexandra offers a range of lace-up shoes that provide comfort, safety and style in a variety of designs.
Slip-Ons
Shoes without laces are easier to clean and are best practice for infection prevention and control. Alexandra offers a huge range in stylish, comfortable and safe slip-on shoes
How do you buy scrubs?
When looking to buy new scrubs, you should check out Alexandra. They are the #1 supplier of medical uniforms and scrubs uk due to the trust people have in their high quality products. They are an official supplier of NHS uniforms and have even received a royal warrant to trade. They offer:
A 2-year guarantee on all their clothing.

Free next-day

delivery

on orders over £60.

A team of fitters to ensure your clothing fits just right.