Aramark is a global food service and facilities management company
Established in America in the 1950's, Aramark is now present in 22 countries worldwide.
In the UK, Aramark employs 9,000 staff, working across 800 sites to provide a wide range of essential site services - from simple vending machines to coffee-shops and cafés to restaurant, conference and meeting facilities. They also keep sites clean, secure, energy-efficient and running as smooth as clockwork. So their 200 individual client companies can concentrate on whatever they specialise in, whether that be corporate business, industry, education, military, oil and gas, healthcare or judicial services.
At this prestigious head office of a major international company in Reading, over 2,000 highly technical staff rely on the services provided by Aramark to keep them refuelled and nourished throughout their working day, with a selection of quality coffee shops and restaurants.

Food quality and variety is a major factor in the service provided by Aramark; this is not just on-site catering - it's high quality, fresh, seasonal food delivered to a discerning, international clientele in a professional, passionate but quietly efficient manner.

"Garments for both front and back of house need to project a confident, professional look that keeps smart throughout the day, but are also comfortable and easy to care for." Rob Emmett, Deputy General Manager, Aramark UK.
View more case studies.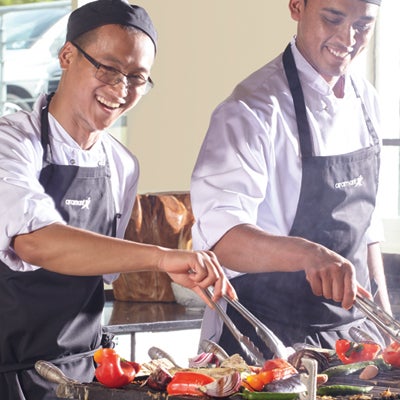 "We choose to work with Alexandra because we share the same values - quality, efficiency and outstanding service"
Graham Coles, Category Buying Manager, Aramark UK.