How to choose a beauty uniform for your beauty business
Independent beauty salon owners across the country toy with the same questions: should I create a uniform for my business? And if I do get a uniform, what style and colour should I choose?
Uniforms make your business more recognisable so that new and existing customers know they can rely on you. That's the part beauty workwear plays in growing your company for the better.
Yet even if you decide to go for a uniform in your business, the huge range of styles, options and accessories can make you unsure of where to begin in creating one.
That's where this article comes in. Here are 7 reasons why you should create a uniform followed by a guide on what styles, accessories and colours to choose.
Uniforms create consistency

A salon or spa uniform allows you to build a reputation for reliability. Uniforms let your customers know they are being treated by the same highly-skilled staff as always. This puts your customers at ease, as they're confident your team know what they're doing and realise your business is a specialist to be relied upon.

They build brand identity

Personalised uniforms build a brand people talk about. By wearing your logo, staff let customers know they're highly trained and work for your business. This makes clients feel connected and they will remember who (and which business) gave them a great service and makes them more likely to recommend your business to friends.

Workwear gets rid of 'own-clothes worry'

Beauticians workwear builds trust. Set workwear means your staff don't have concerns about what they're going to wear every day and means they don't have to damage their own clothes. Better still, it also means your staff don't show up in unsuitable clothes that can give customers the wrong idea about your company.

Uniforms provide comfort & style

Work uniforms help your staff to stay focused on their jobs. By being comfortable to wear over long periods of time, workwear stops clothing from being a distraction. A stylish uniform also makes staff feel confident, to worry less about what a customer might think of their outfit and get on with using their skills freely in your beauty salon.

They keep your business fresh

A salon uniform lets your customers know your business is contemporary. Create one for each season by mixing tunic tops, tunic dresses, shirts and trousers to show customers you're up-to-date. Having your staff at the forefront of changing styles is a visual way of showing customers your business is contemporary and on-trend.

Uniforms show that you embrace your industry

A uniform puts your business in-line with the leaders in your field. The top spas and salons grew because they built reputations for expertise that their customers can rely upon. A major part of building that brand identity was in their uniforms. So if the biggest in the field are doing it, you should be too!

They can improve mobile-business branding

Uniforms let you build a brand identity. Without a static physical presence, building a brand that people recognise as expert and reliable can be a challenge mobile-businesses. Along with a branded vehicle, a uniform with a logo is the best way to let your customers know who you are and what you do.
What Style Should Your Uniform Be?
Now you've decided to create a uniform for your beauty business, what style should you choose?
Tunics are by far the most popular choice of top for a beauty salon uniform. They come in a range of colours and cuts, so can easily be chosen to fit your branding, are durable and easy to care for. Comfortable and great to pair with trousers, they are the first and last choice for beauticians.
Featuring a mandarin style collar and large buttons down one side, asymmetrical style tunics offer an on-trend top that shows the vibrancy of your business.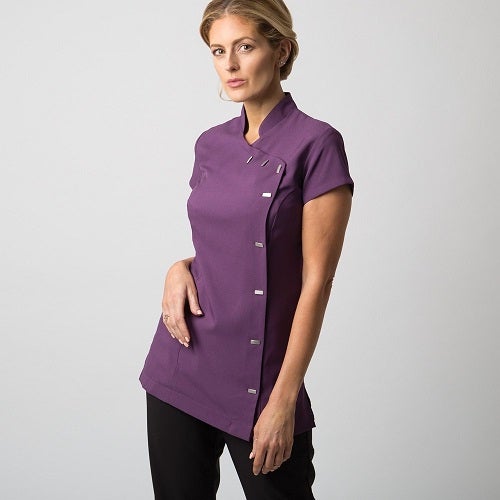 Mixing contemporary cuts with classic smart lines, this style is great for salons that want to stay current and make their customers feel at ease with something traditional.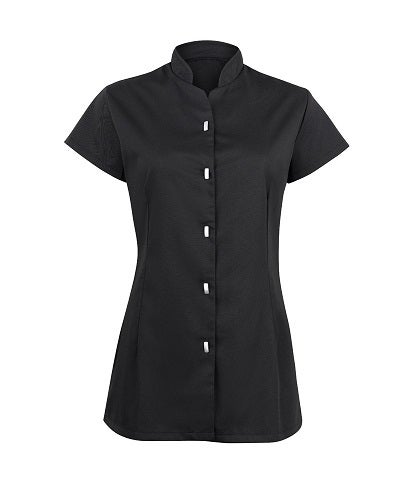 One of the most popular designs for beauticians, the simplicity of its lines makes this style ideal for salons that need a unisex uniform.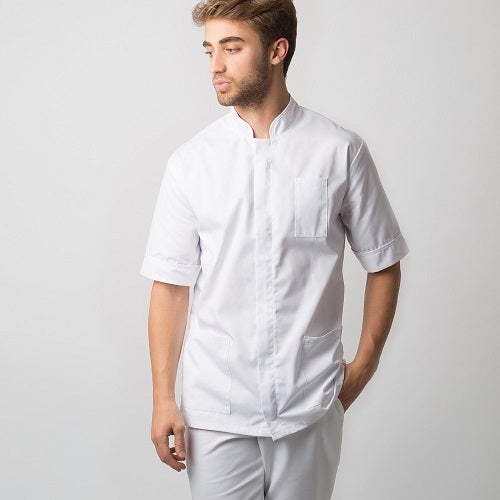 What Footwear Should You Choose?
As a beautician, you're going to be on your feet for most of the day so comfortable and durable footwear should be your top priorities. Another thing to consider is style: you want something that reflects current trends to ensure customers know your business fits their needs.
Open heeled shoes
Open heeled shoes are one of the most popular for beauticians because they're durable and comfortable. Having an open heel makes them airy and able to be worn for long periods of time – perfect for a day's shift. Clogs like the Toffeln UltraLite available from Alexandra are brilliant open heeled shoes.
Slip on Shoes
Slip-ons are favoured by beauticians because they're comfortable and easy to clean. Having no laces means they have fewer areas for dirt to build up and can be kept spotless. A great example of slip-ons is the Sketchers Women's Slip On, available from Alexandra.
Crew Shoes
Perfect for the lengthy stints beauticians spend on their feet, crew shoes can be the most comfortable option. Having laces means you can control their exact tightness and ensure they stay on your foot in exactly the way you want them to. Check out this slip-resistance crew shoe from Alexandra.
What Accessories Should You Choose?
With tunics being the best option for beauticians, accessories are a great way to make your business stand out. Just one or two small details can elevate your style into one your clients remember.
Checking the time on your phone in front of customers can be rude, and wearing a watch can be unhygienic. A fob watch solves these issues and adds interest to your uniform.
Scarf
When paired with a plain coloured tunic, scarves can add some much-needed colour to create a gorgeous, standout uniform. Choose a colour that works for your brand.
What Colour Should You Go For?
The first and last word on uniform colour should be something that works with your brand identity.
Focus on your logo and use the colour wheel to help you choose complementary colours (those either side of your logo's main colour or those opposite it).
If you really can't decide which colour to choose then black or white are great and easy options that you can't go wrong with. They look stylish with absolutely anything.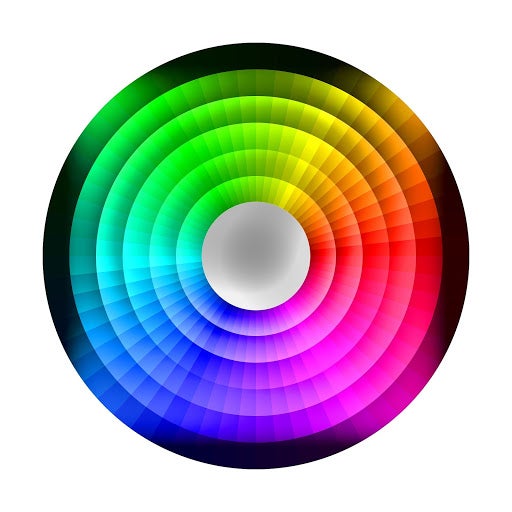 The benefits of a uniform for your business are unlimited. They help to build a brand identity that your customers come to remember as experienced and reliable, and makes them feel confident in your services to recommend to friends. Uniforms are therefore a great way to grow business, so now is your chance to have some fun and get experimental with styles, colour and accessories.
Ready to buy your new beauty uniform?
Head to Alexandra.co.uk who are specialists in durable and high-quality workwear for the beauty industry. Their experts can easily and affordably personalise and fit uniforms to your needs.