The stress of work dresses: a guide to women's business dress
"Dress appropriately." When starting a new job this one small sentence can fill you with dread. What exactly is an appropriate work dress? And what does my new workplace expect from it?
From feeling out of place by dressing too formally when compared to your colleagues, to the worse mistake of being dressed too casually, choosing work clothing can cause frustration, confusion and worry.
So what sort of clothes should you be wearing for each level of business?
Here's an easy guide to it all from business formal dress code to casual workplace attire:
What to wear for different business styles
Business Formal Dress Code
The highest level of business where the utmost formality is necessary. These smart dress clothes are expected in law and in big-shot business meetings. Often called "boardroom attire", it consists of clean-cut suits and dresses, and the darker the colour the more formal.
Business formal is:
Dress – A well-cut and long bodycon or midi dress.
Business Suit – A pantsuit or skirt-suit in a conservative colour: black, navy or grey.
Shirt – White long-sleeved button-ups with a collar.
Blouse – White with a classic-style collar.
Trousers – Straight leg and dark, conservative coloured.
Skirt – A conservative coloured skirt never more than two inches above the knee.
Shoes – Closed-toe heels in a neutral colour.
Hosiery – Dark, conservative colour.
Accessories – Luxury stud earrings and a simple watch.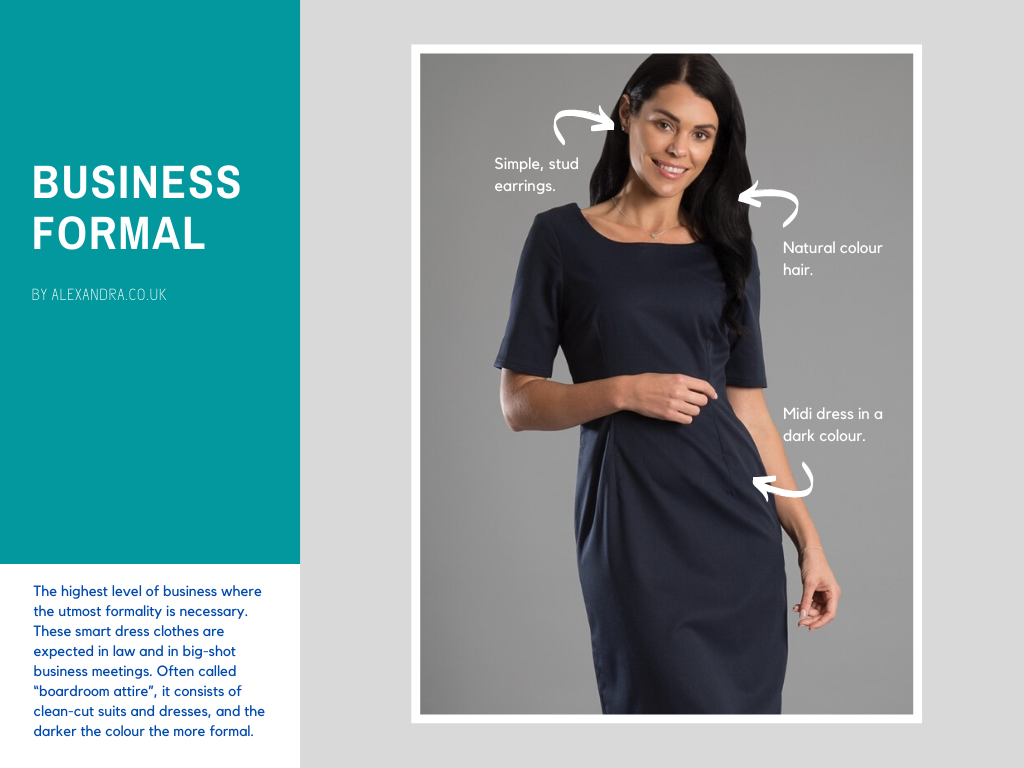 Business Professional Dress Code
Think of this as everyday business attire. This style of clothing remains neat and conservative but allows more flexibility with colour and pattern options. You should remain professional but can let your personality shine through with your accessory and clothing colour choices.
Business professional is:
Dress – A well-cut and long bodycon or midi dress.
Full suit – Conservative colour: black, grey or navy.
Shirt – A button-up shirt with a collar in any solid colour.
Blouse – In any solid colour or muted mattern with a classic-style collar.
Business Separates – In complementary conservative colours, a jacket, top and skirt for example.
Trousers – Straight leg and dark, conservative coloured.
Skirt – Conservative coloured and no more than two inches above the knee.
Hosiery – Dark or skin-coloured.
Shoes – Closed-toe pumps in a neutral colour.
Accessories – One statement piece such as a luxury watch or necklace.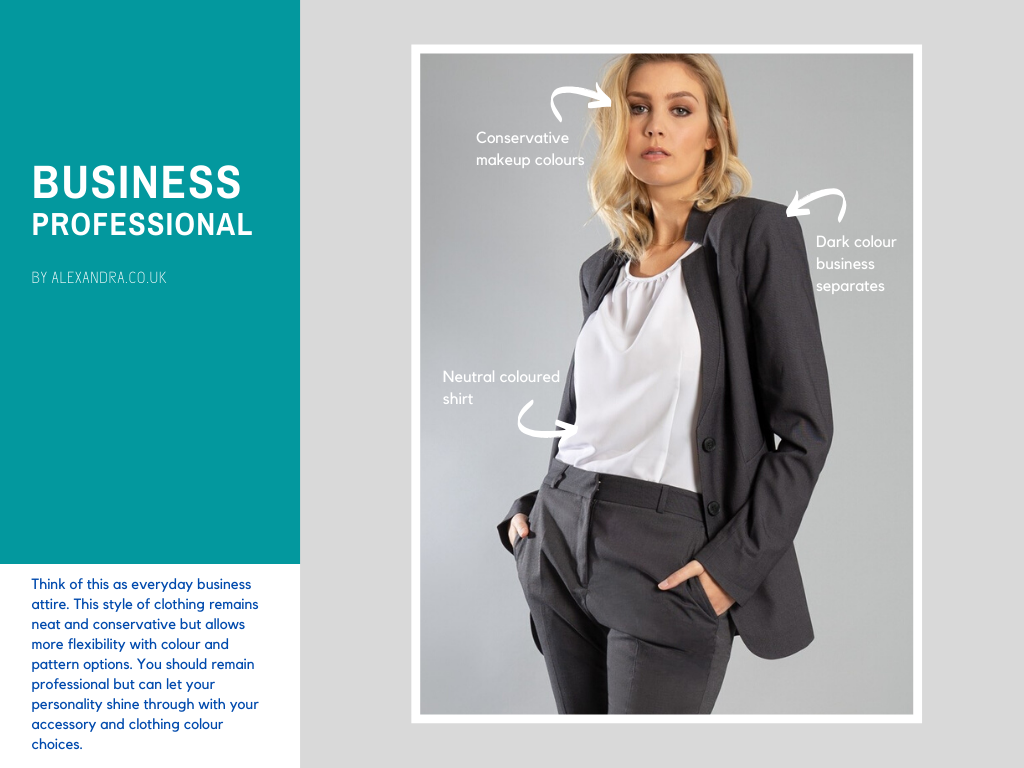 Business Casual Dress Code
The most common dress code for work. Business casual attire allows you to remain comfortable and show personality through your clothing whilst remaining professional. There are many more options for colours, but always check HR to ensure your choice doesn't break their rules.
Business casual outfits are:
Dress – Bodycon, midi or shift dresses.
Business separates – A cardigan and trousers, for example.
Shirt – In solid colours or muted patterns.
Blouse – In any colour or muted pattern.
Trousers – Straights or khakis in dark colours.
Shoes – Any coloured closed-toe flats, loafers or pumps.
Accessories – A statement piece, but not necessarily from a luxury brand.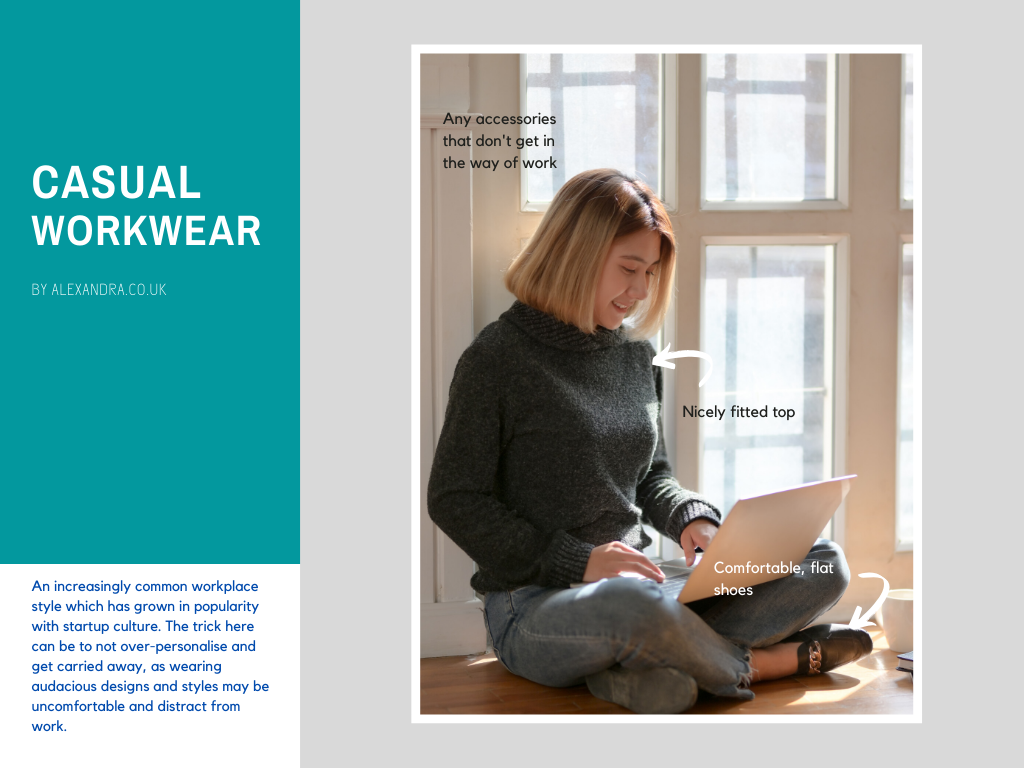 Casual Dress Code
An increasingly common workplace style which has grown in popularity with startup culture. The trick here can be to not over-personalise and get carried away, as wearing audacious designs and styles may be uncomfortable and distract from work.
Casual attire is:
Tops or blouses – Always nicely fitted and never revealing.
Straight trousers or skirts – Cotton or denim are allowed but should be dark.
Skirts – Any dark colours can be worn but should remain at knee-length.
Shoes – Open-toed ones are allowed and even trainers in some cases.
Accessories – Any casual choices, your everyday favourites.
Putting Your Own Stamp on Things
So you've got what you're going to wear to your new job down, but now there's a nagging question at the back of your mind. How do I make my new work attire feel like it's mine?
The answer is within the details, within accessories.
A watch from your favourite brand, a pair of suitable earrings that you love or a suitable bracelet with a personal inscription are all good ideas. In all of these small ways, you can go some distance to feeling more like yourself and give hints as to the personality behind the formality.
The freedom of dressing appropriately
You should see 'dressing appropriately' as an opportunity to show your workplace who you are and what you can do.
That's certainly the view of Mary Barra, the CEO of General Motors and the only woman running one of the USA's top 10 largest companies, who views the phrase as a way to give you freedom whilst also proving your professional thinking.
So now you've taken the stress out of deciding upon what to wear for your new job, you should now look towards taking the stress out of buying it. Head over to Alexandra, to find your perfect businesswear outfit.