How to purchase a suitable nursing tunic
Nurses come up against many challenges throughout their shifts, but choosing a uniform shouldn't be one of them. If you are starting the process of finding a new nursing tunic, then you might have questions about which ones are suitable and what to look for in a manufacturer and supplier.
This guide by Alexandra Workwear will outline a few key things to think about when looking for a medical tunic.
Want to find out more about personal protective equipment? View our recent guide on NHS PPE.
Consider your workplace guidelines
Your healthcare workplace will have guidelines around the type of uniform you can and cannot wear. Guidelines usually differ per role and outline things such as the type of shoes or the style of nursing tunic you can wear, so consult them before purchasing a new one.
Think about your role
As a nurse, your role will tend to be very active with duties that can make you very hot. Therefore, you should consider purchasing a nursing tunic made from breathable material with side vents for ventilation. Also, you should test whether the tunic is large enough to allow ease of movement.
Buy your healthcare tunic from a reputable supplier
You should look for a supplier that is known for manufacturing reliable products. Alexandra is the leading UK healthcare industry workwear supplier due to the quality of our products. We have a history supplying clothing to the NHS and have received a Royal Warrant to trade.
How much does a nurse's uniform cost?
Alexandra's nursing tunics are available from around £20 in many styles and colours, with trousers available from around £21, so you should expect to pay around £41 for a complete nurse's uniform. The cost depends on the products you purchase and could decrease per uniform if you buy in bulk.
How do I order NHS uniforms?
Alexandra Workwear makes it easy for you to order NHS uniforms. Simply add the product you want in the quantity you want to your basket, then follow the payment instructions. Account holders can use the QuickShop feature that allows you to shop for products quickly using their product code.
Do nurses have to buy their own uniforms?
Whether a nurse is expected to pay for their uniforms depends on the policy of their workplace. Some healthcare workplaces will provide uniforms for their staff, whereas others expect nurses to purchase their own workwear. Any nurse should consult their workplace uniform guidelines for the relevant information.
What do nurses actually wear?
Non-surgical nurses working on wards in UK hospitals tend to wear either a tunic top with smart trousers or a tunic dress. However, during the COVID-19 pandemic, many nurses were asked to switch to wearing scrubs to aid infection prevention and control, which they continue to wear.
What do the different colours of tunics mean?
Many UK NHS and private hospitals use different coloured tunics to denote nurse roles, and each workplace has its own system. For example, a matron may wear a navy coloured tunic, whereas a surgeon may wear a light green coloured one.
How often do nurses buy scrubs or tunics?
There is no set timeframe for when nurses have to purchase new uniforms, but they need to keep them pristine. Uniforms with holes or loose threads can be an infection control hazard and fail to keep nurses or patients safe. Alexandra's healthcare range products come with a two-year guarantee.
Where can I get quality nursing uniforms?
Alexandra Workwear is the best place to purchase quality nursing uniforms in the UK. All of our clothing comes with a two-year guarantee from the date of delivery, so you can rely on it to keep you safe through your shift.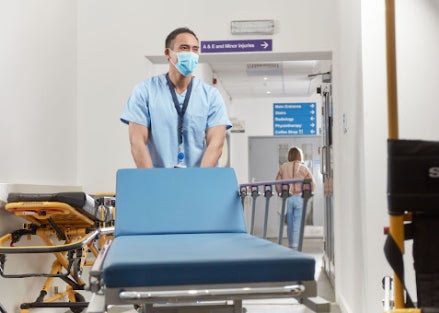 Why do nurses tend to wear white?
White nursing uniforms developed with the understanding that bacteria causes infections: they were used to prove how clean the nurses' uniforms were. In modern times, nurses wear many different colours, often to denote their role, but white is still a popular choice for healthcare clothing.
Are you supposed to wear clothes under scrubs?
Scrubs are designed to be the top layer of clothing a healthcare professional wears. Clinicians wear underwear beneath the scrubs and often a plastic apron on top of them for added protection.
If you're looking to purchase new medical workwear, then visit Alexandra Workwear. We have a large supply of high-quality and affordable healthcare uniforms, including nursing tunics, trousers and scrubs.