The ultimate guide to buying nursewear
As a medical professional, you need healthcare uniforms you don't have to think about. Your work is busy and important, with long hours and you need clothes to simply do their job.
With healthcare clothing or medical workwear, there are many considerations for you to make. It has to keep you safe, so when you're buying nursing clothing you may question: Which supplier can I trust? What should I consider when shopping for workwear? How can I be sure clothes to meet my requirements?
This guide gives you the answers to these questions. With a 4-step process for medical uniform buying, it will tell you which supplier you can trust, what to consider and which uniforms and workwear to purchase.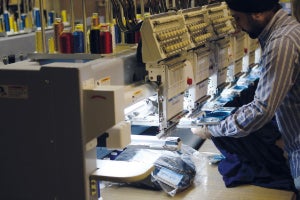 1. What's the best place to buy nursing scrubs?
To save you the worry of unsafe nurse uniform supplies, you need to know your workwear is suitable for use within medical environments. Finding a supplier you can trust is paramount.
You can purchase trusted healthcare clothing at Alexandra.co.uk
They know you need:
Workwear that keeps you and your patients safe
That's why their wide range of clothing is designed by experts and is NHS-approved, to make sure it's safe for use in a medical environment.
Clothing you're sure will see you through the day
That's why their clothing is high-quality and comes with a 2-year guarantee to save you from worrying about its durability.
Clothes that don't distract you
That's why they have a team of expert fitters to make sure the clothing fits you in a way that is 100% comfortable.
They have experience in delivering it
Your colleagues have used Alexandra for years
Alexandra has made workwear since 1854. You won't find a supplier with more experience in designing clothing for working people.
The Royal Family believes in Alexandra
Alexandra was awarded the Royal Warrant in 1990.
2. Nurse uniforms, who wears what?
Choosing your new uniform can be confusing because there's so much to consider. Break your thinking down into where you work, what kind of role you have and what you do day-to-day to make this task easier.
What is the dress code for nurses where you work?
Where you work usually determines your dress code.
Look at your workplace uniform guidelines
Research your workplace's standards to know you're sticking to the rules. No matter what else you've thought about, if your new uniform doesn't adhere to your practice's uniform code then you're going to find yourself unable to wear it.
What kind of role do you have?
What category your role fits into directly influences the clothing options you have.
Consider if you're clinical staff or non-clinical staff
Non-clinical-staff have more clothing options than clinical staff. Because they don't work directly with patients they don't have to have the same considerations about contamination and overall safety.
What you do day-to-day
Think about how you tend to work, not just the role you do.
If you're clinical staff, consider:
Whether the clothes will keep you safe
Shop for workwear designed to be sterile and easy to clean. Your clothes need to form a barrier between you and your patients – they need to make sure contamination isn't a risk.
If you're clinical staff or non-clinical staff, consider:
Whether the clothes will be comfortable
Get clothes that aren't too hot or too cold and fit you correctly. You work long hours so you need workwear that won't rub or be too tight. Alexandra's team of fitters can ensure your clothing fits you just right.
How durable you need your workwear to be
Find clothing that will last you through every shift so that you can think about other things. Alexandra's clothing comes with a 2-year guarantee to ensure exactly this.
Whether you need personalisation
Think about having your name embroidered onto your clothing as it can help patients and staff to recognise you. Always make sure this is permitted by your uniform guidelines. Alexandra can personalise your workwear.
How much time you have to care for your clothes
Consider buying enough uniforms to last the week. To make sure your clothes are safe and comfortable, you will need to thoroughly wash them after each shift.
If you're non-clinical staff, consider:
The suitability of your outfit
Make sure your clothing is smart and you wear sensible footwear. You may not always be facing patients, but you still need to be ready for any situation your job needs you to undertake.
How trustworthy you look
Wear clothes that make you look authoritative but not so smart you look unempathetic. For the moments when you are dealing with patients or colleagues, wear clothes that make you look trustworthy.
What uniforms do nurses wear?
Now you know where to buy your clothing and what to consider when buying it, the time has come to see what clothing is available to purchase that suits your needs.
Clinical staff clothing options
Scrubs should be worn as they're comfortable. They are also the best way to reduce the risk of contamination. Scrubs should be washed at 60º daily in line with the garments care instructions and infection control guidelines.
Nursing top & trouser combination
A nurse tunic and a pair of trousers, or a scrub top and a pair of trousers. The entire outfit can either be one solid colour, or the trousers can be a darker colour such as navy or black.
Separates are preferred by many nurses for their comfort on long shifts. All options are available at Alexandra who can make sure you get the correct size with their expert fitters.
Styles available include striped, zip-front and mandarin collar dresses. Dresses must sit below the knee and be accompanied by plain hosiery unless the weather is extremely hot.
A dress makes a durable option for medical staff. Made from colourfast fabric and industry approved, Alexandra can provide quality nursing dresses at affordable prices.
Footwear options
Your shoes should always be flat so that they're safe and comfortable for you to wear all day long. They should also usually be black.
Slip-ons are favoured by healthcare workers because they're comfortable and easy to clean for infection control. Having no laces means they have fewer areas for dirt to build up and can be kept spotless. A great example of a slip-on is the Sketchers Women's Slip-On, available from Alexandra.
Perfect for the lengthy stints healthcare staff spend on their feet, crew shoes can be the most comfortable option. Having laces means you can control their exact tightness and ensure they stay on your foot in exactly the way you want them to. Check out this slip-resistance crew shoe from Alexandra.
There are times when you might need thicker soles or steel toe caps, especially if your job requires you to manoeuvre a heavy trolly. Safety footwear, available at Alexandra, from trainers and boots to wellies is ideal for this sort of situation.
What accessories should you wear?
Don't forget about the power of accessories to make your job easier. Having the right equipment on you all the time can speed up your productivity and stop you from getting frustrated by having to find things.
Non-clinical staff clothing options
If you don't work directly with patients you have more uniform options. So, as long as your clothing conforms to your work place's guidelines, the following suggestions from Alexandra include:
A conservative-coloured shirt or blouse paired with straight, dark trousers. Separates are always a comfortable choice for any work environment.
A well-cut and conservative coloured dress in a bodycon or midi style. This presents a professional image whilst also being durable and comfortable.
Brogues for men, or low-heeled shoes for women.
Buy your nursing wear online with confidence