Alexandra Launches Chef Collection in New Eco Range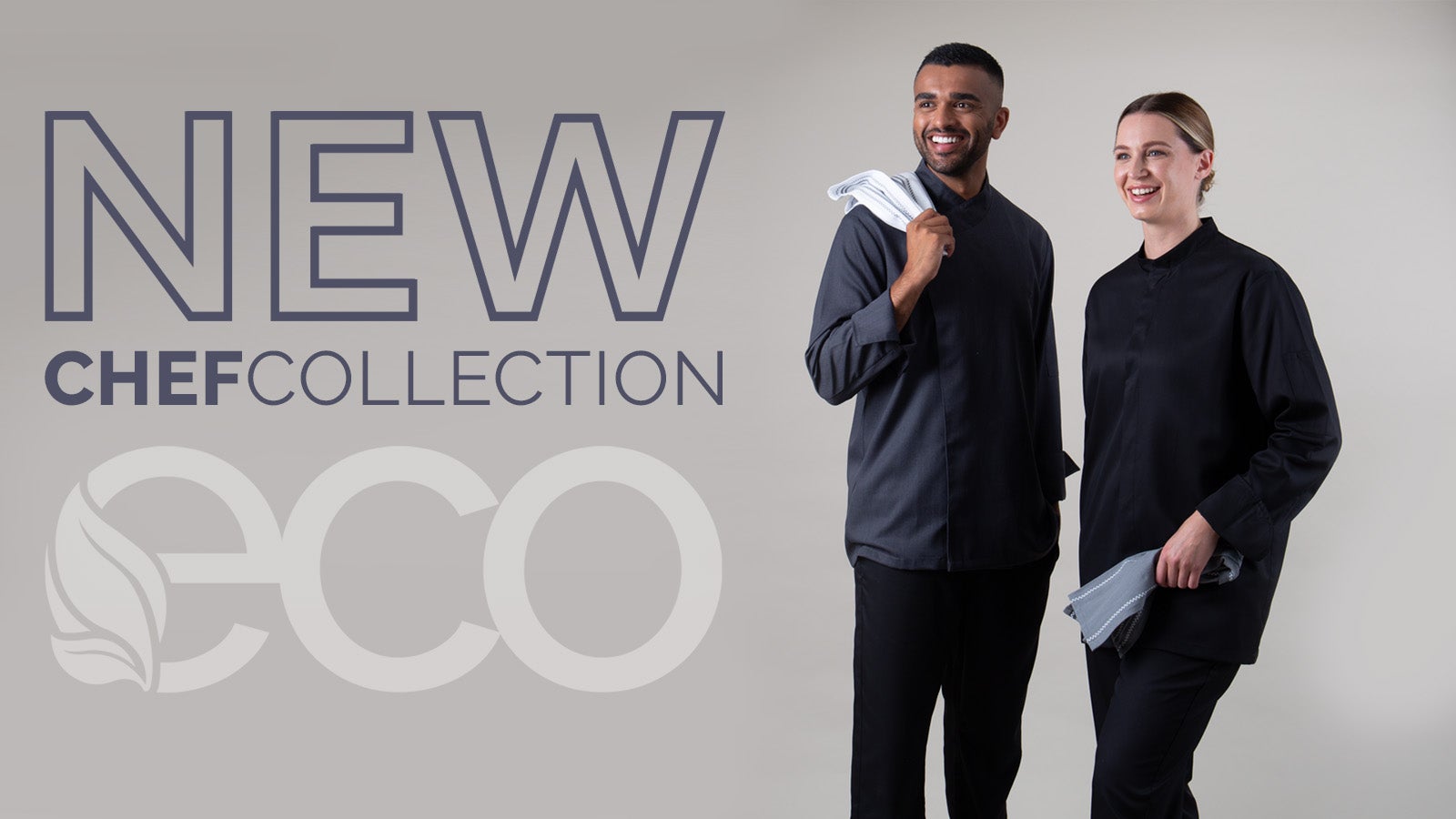 Alexandra's recently launched Eco range sees another collection released - in the form of Chef wear. This Eco Chef wear range utilises intelligent fibre blends and garment technologies to suit the varying temperatures that Chefs encounter day-to-day.
You don't need to take the heat!
Alexandra's new Chef range uses Moisture-wicking Tencel™ fibres, designed to absorb moisture efficiently so there is less available on the surface of the fibre, which draw sweat away from the body, so whilst the kitchen heats up, you will remain nice and cool!
Moisture-wicking is not only good from a wearer comfort perspective, but hygienically too. The Tencel fibres create a much drier surface meaning there is a much less favourable environment for bacterial growth.

The right ingredients for a greener future:
In the creation of Tencel™ fibres, the environmentally responsible processes mean that it is carbon neutral.
The range uses OEKO-Tex certified fabric, meaning all the textiles used have been tested for harmful substances, giving you confidence in your garments and reassurance of high product safety.


Gourmand or Gourmet?
It doesn't matter. Whichever your style, the range will keep you looking chic and smart. Compliments to the Chef!
The new Eco Chef range cuts a sleek, professional silhouette, and not only does it look good, the Tencel™ fibres are naturally soft to the touch and gentle on your skin, so our new eco range will provide long-lasting comfort.
What does the Chef collection of the Eco range include?
The range features slimline trousers and two different chef jackets: a traditional, high-collared double-breasted jacket and a mandarin collar single breasted jacket. The jackets are available in three colours including black, cross dye black (a 'charcoal' black) and white. With the trousers available in two colours, black and cross dyed black, this provides you with the option to contrast the chef's jacket or pair the two in one colourway, creating a complete look. Both the jacket and trouser sizing is supplied in a gender-neutral fit, ensuring inclusivity for all.

The range complements Alexandra's existing hospitality pieces, so if you're looking for the complete Chef look with a hat, apron or shoes, Alexandra has what you need. If your Maître d's uniform could do with an upgrade, Alexandra has something to suit them too! Alexandra caters for everyone from front-of-house to Chefs, to cleaners, to bar workers too. Head to the website to view our entire range.

Clare Du Mughn, Design Director at Alexandra comments on the range: "It was important for us to create a Chef wear range that is not only aesthetically pleasing, but functional and comfortable for the wearer in their working environment. This new eco range achieves on all points. The range looks modern and stylish with the slimmed silhouette, and has ease of function with the new fastening, but most importantly, it's comfortable for the wearer too, using a blend of Tencel™ branded Lyocell and polyester fabric, ensuring that this Chef wear range keeps you cool in the kitchen."
The Chef wear collection of the Eco range launches soon and will be available to purchase from the Alexandra website, visit to view the full range www.alexandra.co.uk/product/sustainable-workwear