Preventing slips when under pressure
Voted by the Sunday Times as one of the top 25 best companies to work for, Elior has a valuable employee reputation to protect.
Elior provides catering, retail and site services to clients in the military, sports and leisure stadia, education and care sectors. Their success has been built on providing an efficient, performance-driven service across their many sites by empowering their staff to offer a uniquely tailored service to their customers. At the Agusta Westland engineering site in Yeovil, over 5,000 customers of the four Elior on-site catering facilities rely on a fast, high-quality food service, which is provided in highly concentrated bursts of activity throughout the day. Catering staff need to work quickly and safely, especially when preparing, handling and serving large volumes of food and beverages.
Elior insist that every member of their customer-facing staff wear good quality safety shoes to protect them from the possible hazards posed by spills and slips. And when you're on your feet throughout your shift, comfort is also a major factor in presenting a positive, friendly and helpful service to customers.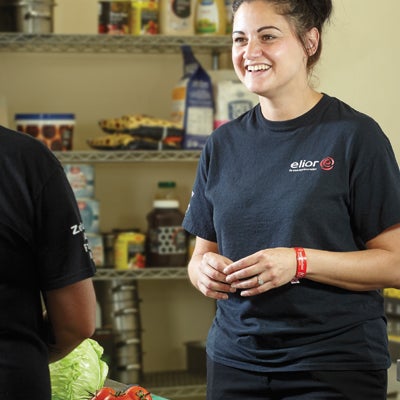 "We trust Alexandra to provide the range of footwear needed to keep our staff on their toes and ready for anything. "
Steve Harding, Head of Site services, Elior UK