Helping PDSA to revamp their image
When PDSA, the UK's largest vet charity refreshed their brand image in 2014, they turned to Alexandra to help them create the right look for both medical and non-medical staff throughout their 51 PDSA Pet Hospitals. The key objectives for the garment design were comfort, practicality and striking, contemporary styling.
Alexandra spent time with both senior management and staff in developing a design that would meet these needs. Combining the new PDSA brand colours of magenta and jade, samples of the reception wear and medical garments were produced and tested during wearer trials, meeting with positive approval across the organisation.
"The medical staff wear contemporary unisex scrub sets based on a proven catalogue design from Alexandra, the NF43. It's made in a robust poly cotton fabric that can be washed at home, with stretch side panels for extra comfort," says Sara Catanzaro, Alexandra's design manager. "However, for this project both the design and colours are unique to PDSA".
The garments were rolled out to PDSA staff in Spring 2015 with the help of TV celebrity vet, Steve Leonard who commented on "...PDSA, looking good and providing the highest standards of veterinary care is definitely a good combination."
View more case studies.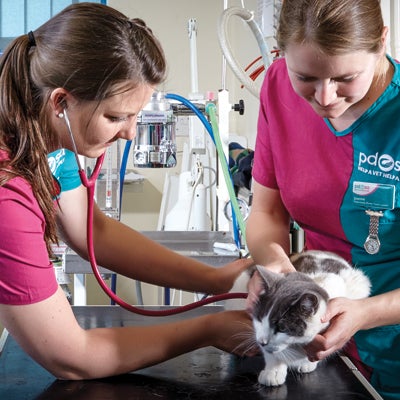 "Our new workwear has given us a stronger sense of unity and pride."
Linda Day, Senior Vet, Bristol PDSA Pet Hospital