Student Sizing: What you need to know
As a student you may be required to wear a uniform as part of your studying and placements.
A good fit is vital for comfort and ensuring you are able to perform the task associated with your role.
View our how to measure guide here.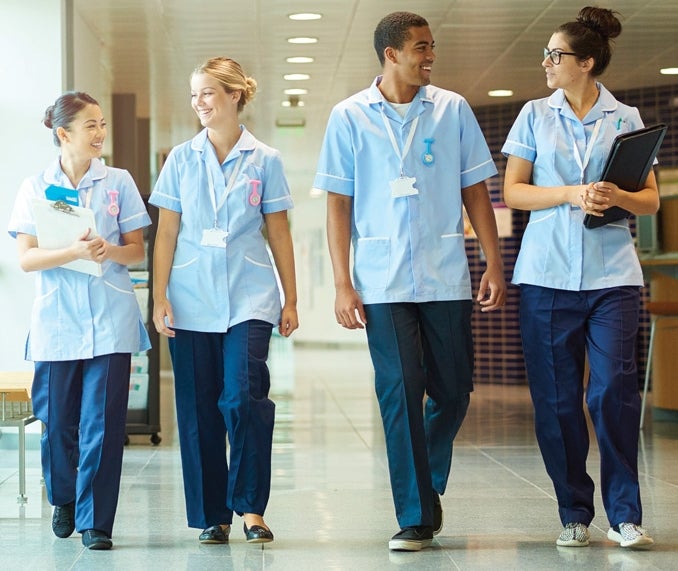 How to measure for females
Handy Tips to Ensure the Perfect Fit
Do make sure the tape is held flat and firm and not twisted and tight.
Do make sure the measurements are taken from the correct location on the body (please check the how to measure guide via the link above).
If your measurement is a half cm/inch please enter the larger measurement (for example 91.5cm enter 92cm), this will help ensure your comfort and ability to perform task whilst wearing your uniform.
If you have any questions or require guidance about your uniform requirements please check the FAQs above if the answer is not there contact your University course leader.
If you need help and advice or have questions regarding our garments please check the FAQs above, if the answer is not there contact our team by emailing uk.universities@alexandra.co.uk stating which university you are enrolled with.
---
FAQs
1. What if I'm not in to receive the parcel?
You will be given notification when the parcel is despatched and it will arrive within 2-3 days. The courier will reattempt twice more however it is your responsibly to be available.
2. Which Address do I need to provide?
The address you will be residing at on the delivery date – Date to be confirmed by your university.
3. What do I do regarding my uniform size if I'm pregnant?
Please contact your course leader who will be able to talk you through the options.
4. How can I change something on my form once I have pressed submit?
Please contact uk.universities@alexandra.co.uk with your amendments.
5. My shoe size is a half size, what size do I choose?
The shoes are available in whole sizes only, so please go up to the next size (for example if you are a size 7.5 please pick a size 8).
6. What happens if my uniform does not fit?
Please complete the second online form that you received when your garments were despatched.
7. I believe one of my tunics is a different size to the others – however the label is the same, what should I do?
Please contact uk.universities@alexandra.co.uk and one of our team members will be able to assist you.
8. My trousers / dress does not have a hem, is this correct?
Your university range is an unhemmed trouser / dress. Please hem to suit your leg length.
9. Am I able to have a dress?
If offered in your range yes if not please contact your course leader.
10. What if I am on a diet and expecting to change sizes, what size should I order?
It is important to take actual measurements, please quote your current measurements on the form.
11. I would like more garments than what has been given to me, can I purchase some more of my own?
Yes, once you have received your uniform and confirmed it fits, you can purchase additional items, please contact uk.universities@alexandra.co.uk who will be able to help you.
12. What if my parcel does not contain the right garments or something is missing?
Please contact uk.universities@alexandra.co.uk.
13. What can I do if I require a longer inside leg measurement?
Please contact uk.universities@alexandra.co.uk for an alternative to be offered.
14. Will I have confirmation when my parcel is due to be delivered?
You will receive a despatch confirmation email. Your parcel will then be delivered 24-72 hours after that.
15. Do you supply footwear and how can I order?
Yes – we have a wide range of footwear that will likely meet the guidelines set out to you, and you will have special pricing available to you. If you would like to enquire please contact uk.universities@alexandra.co.uk and we will be able to support this requirement.