Alexandra host South West Contact Centre professionals
Recently Julie Davidson (Customer Service Team Manager) and her team hosted a hugely successful quarterly meeting of the South West Contact Centre Forum (SWCCF) at our office in Thornbury. Over 25 members attended the meeting, including senior representatives from UCAS, Nisbets, Europa, JB Global, Screwfix, Bristol City Council and Avon & Somerset Police.
Alexandra became members of SWCCF last year with the objective of learning and sharing best practice, networking, and benchmarking performance with 250 of the UK's largest and most successful contact centres in the South West region such as RAC, Dyson, EDF and NFU Mutual.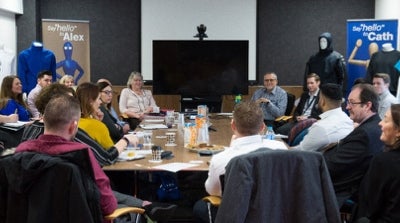 SWCCF at our office in Thornbury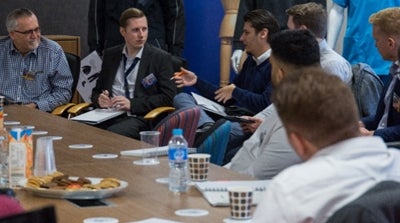 SWCCF at our office in Thornbury
Tina Graves (Commercial and Operations Director) is delighted at the progress to date, "We have already gained much benefit from our association with the SWCCF, helping us to launch powerful learning initiatives like the 'Ask Alex' information hub, and the 'I am Alex' development strategy - both of which are helping us to really put our customers at the heart of everything we do".
"We have received some super feedback from companies who attended our meeting" says Julie, "and I would particularly like to thank the support and pro-active involvement from members of the Alexandra team, especially Dave and Anna who donned hi-vis jackets to direct the parking for the event".
Martyn Roberts, (Learning and Development Manager) commented, "Our involvement in the SWCCF is already paying dividends – not only in knowledge-building but also in generating actual sales leads from other members. Its great news for everybody involved and we'll be looking to getting involved in more events in the future".
"Thank you so much for hosting such a successful event, you made everyone feel very welcome and the lunch was awesome! It was also really good to see Tina, Rebecca and Martin chatting to members".
Paul Allen
UCAS
"I was really impressed with the welcome we received, but also the premises, lunch and fantastic literature on how Alexandra has grown over the years".
Jon Martin
JB Global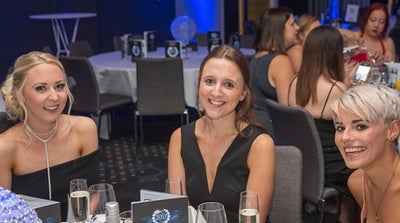 Attendees at the SWCCF Gala Awards Dinner Last year