Welcome to the Wearer Self Purchase programme
What is it?
Our Wearer Self Purchase (WSP) programme allows members of an organisation to manage and purchase their required uniform at affordable prices.

Our Wearer Administrators can easily top up the organisation's allowance and allocations to keep staff looking smart and feeling great.

We want to ensure that you represent your team and brand the way you want to. Discover how the programme works and how it can benefit you and your team:
Who is it for?
WSP can be used by a range of businesess of varying sizes.
If you'd like the members of your organisation to purchase and top-up their uniform items so that they're in keeping with your company specifications, enroll in our Wearer Self Purchase programme.
What are the Benefits?
As an WSP organisation, you can benefit from:
Manage and administer your unifrom allocations in a secure central location,
A branded uniform ordering portal,
Add and remove garments (both catalogue standard and bespoke branded uniforms),
Control access to your selected garments by job role or cohort. Setting up "wardrobes" for roles or cohorts,
Pass on savings to your organisations members,
No minimum order quantities.
As a WSP employee or student or contractor you can benefit from:
The ability to purchase branded and non-branded uniform items which you know are approved by your organisation,
Top up the allocations/allowance you receive from your organisation,
Benefit from savings on price: purchase garments at the same price as the organisation,
Access to supporting materials to help with measuring, choosing the right fit to ensure you feel good, look good and can perform as required in your uniform.
FREE Delivery
---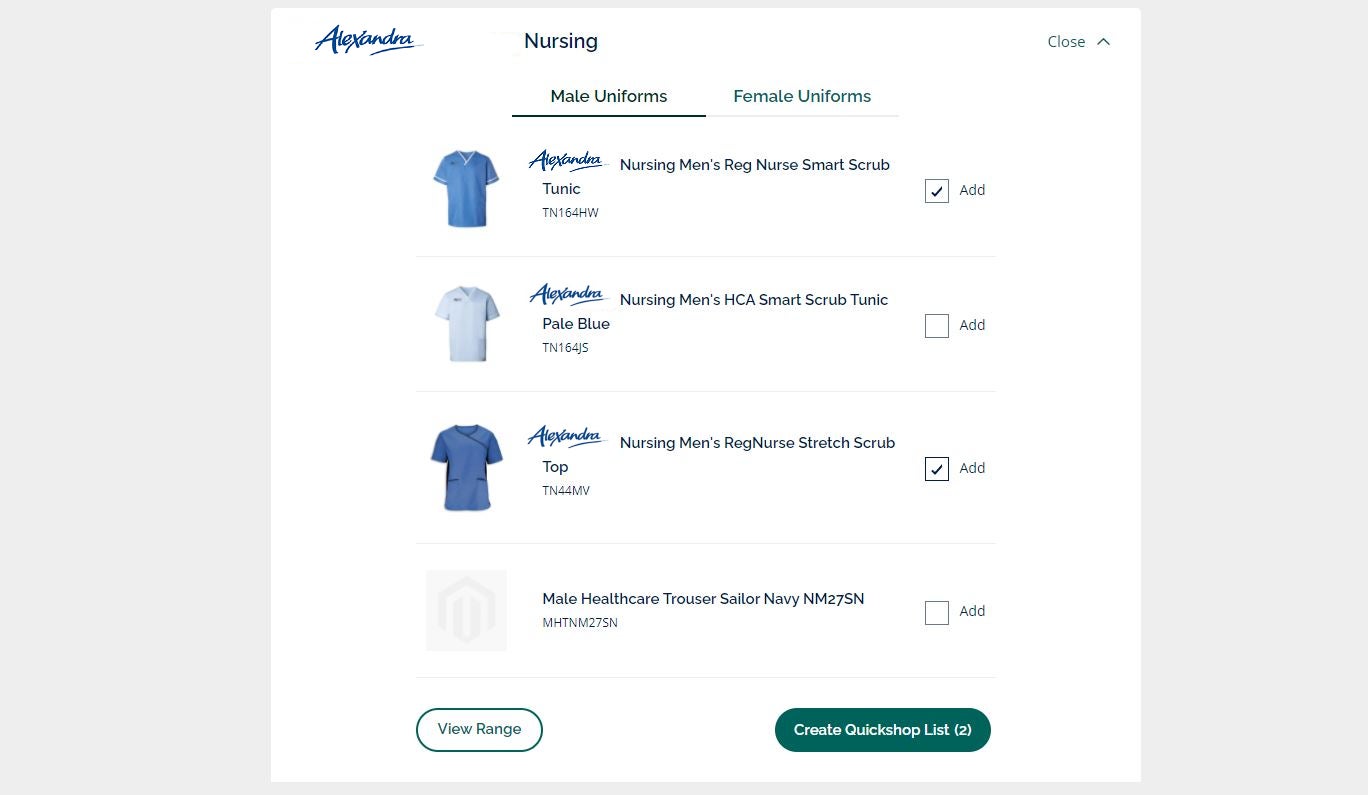 How it works
You will be provided with an ordering portal with your branding to ensure continuity with your organisation and to provide reassurance to your members,
The portal will be populated with your chosen bespoke and catalogue standard products, at your agreed pricing rates,
A member or small number of members of your organisation will be granted administrator rights (e.g. HR/Purchasing Manager or Course Tutor/ Administrator),
The Administrator with have the ability to manage the access rights of the users:

Upload list of users by csv. filetype or manual input,
Add those new users to the correct roles or cohorts within the organisation map (this will ensure users can easily purchase the garments that they require, rather than sifting through all of the garments available in the wider organisation. For example, a nursing student will require a tunic so will see a catalog that contains tunics and a paramedic student will see a paramedic-related catalog.)
Send users an email from the portal inviting them to activate their account,
Once activated and signed in, the user can purchase their garments using debit or credit card,
If and when a user leaves your organisation or course, the Administrator can simply remove them from the portal and revoke access.