Support every step of the way
Our clients are at the heart of everything we do at Alexandra. Whether you are a small business owner, multi-national company or government organisation, we adapt our services to suit you. From your initial sales consultation with us to the selection, implementation, after-care and account management you will receive from Alexandra, we concentrate on putting the needs of your business first.
Each business account is assigned to a dedicated Account Manager who will agree a suitable contact plan with you and recommend solutions that support your needs and objectives. These services include:
End-to-end Account Management & Client Services support
Electronic Data Interchange (EDI) and eCatalogues
Online ordering or access to our customised ordering portal, DUOS
Bespoke design, testing and production
Samples and wearer trials
Staff sizing support services
Sales forecasting and stock management reporting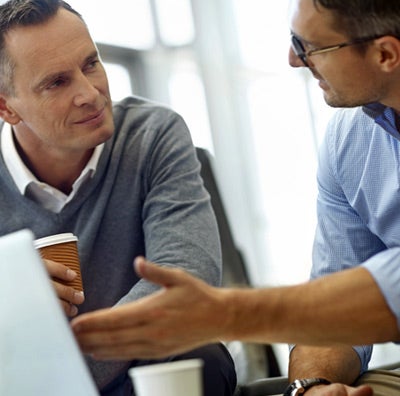 ---
Special Sizing days
Online Fit Advisor Service
Wearer Packs
Hand Issue Service
Samples Service
Wearer Trials
Wearer Guides
Sizing sets
Custom online ordering service (DUOS)
Forecasting and reporting systems
Electronic Data Interchange (EDI's)
eProcurement catalogues
Alexandra Product Information Feeds
Clear, accountable invoicing and account tracking
---
Special Sizing Days
Members of our expert sizing team can arrange a convenient day to attend your business and measure wearers for their uniforms. This saves time and ensures the best possible fit when the garments are finally delivered to your staff. We will usually recommend this where there are over 200 wearers or where your uniform requirements are more complex.
Wearer Packs
Wearer packs are a complete uniform packed in a single, named parcel for each of your wearers. We take your size and issue instructions and then package the garments and accessories individually and securely for each wearer. These can then be delivered to you so that they can be collected by the wearers on a specified date.
Hand Issue Service
With large numbers of staff, it can help to have Alexandra 'hand-issue' each wearers pack directly to your staff, on your own premises. Simply contact your Account Manager to recommend the best solution for your particular business.
---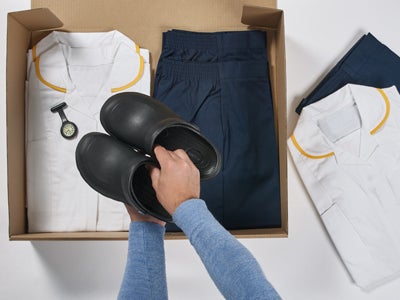 Samples Service
Alexandra offers a FREE 30 day Sample Service to all our clients. Once you have established an account with us, simply order samples of the garments you require through your Account Management Team. You can order a range of styles, colours and sizes to help you decide on the best choice for your business. You then have 30 days to decide which products you wish to keep.
After this time you will be invoiced for any products that you do not return to us* using the instructions that came with your sample order. Your Account Manager can also attend an initial Wearer Trial day at your premises, bringing a wide range of colours/sizes with them for your team to look at. Just contact us for more information.
* Samples must be returned to Alexandra, within 30 days of your receipt and in a resalable condition, complete with packaging and despatch notes.
---
Wearer Trials
Clients who are changing their corporate uniform or need to supply large numbers of wearers, may choose to conduct a Wearer Trial first. A Wearer Trial gives a select group of your wearers the opportunity to trial potential garments for up to 4 weeks.
At the end of the trial, wearers are asked to complete a questionnaire to provide you with detailed feedback as to suitability, fit, colour and style etc. We will then help you to interpret the feedback to ensure that the final designs and products chosen are perfect for your organisation.
Wearer Guides
Alexandra can also provide illustrated 'Wearer Guides' for your staff. These are tailored to your business and provide clear guidance to your wearers on how to wear the garments provided to them. They also give step-by-step instructions on how and what to order to minimise disruption and delay in processing. Wearer guides can provide the following information:
Illustrations or photographs of each product with clear order information
Personalisation options - such as embroidery
Your account information
Alexandra contact details
Washing and care instructions
Health and safety advisory comments to ensure compliance during wear
Styling advice – to make sure your staff look their best
We are also happy to advise our clients on the best ways to communicate to their wearers, which may include garment care leaflets, corporate brochures, staff identification posters and bespoke order and feedback forms. Our Account Managers are also able to attended 'Meet the Supplier' events to support the effective implementation and delivery of our client's uniforms. Your Account Manager will work with you to arrange this if required.
---
Sizing Sets
Where clients are being supplied with a range of Alexandra garments for their staff, we can also supply you with a complete Sizing Set, containing samples of all the sizes available for each of the products you offer. This enables you to keep a set available so that staff can try them on for size at your premises before they order their own garments.
Custom Online Ordering Service (Detail)
Our online ordering solution is called Detail. It is a fully 'in-house' developed and maintained web platform based upon .NET technology and hosted in the Microsoft Azure cloud to guarantee security and availability for all our customers. Detail can be accessed on all types of PC's, tablets and smartphones.
A secure and intuitive platform, regardless of IT literacy, Detail provides our customers with greater visibility on their uniform and workwear inventory as well as the ability to self-serve. With Detail our customers can easily;
Create new orders
View and track the progress of deliveries
Arrange an exchange or return
In addition to the above, Detail also compliments our account management service, allowing customers to log in and manage their accounts at a time that suits them. This includes;
Running and downloading management reports
Wearer history
Viewing and downloading transaction history
Live stock reports
Order details (line by line)
Financial history reports
Read more about Detail here.
---
Forecast & Reporting Systems
As one of the the UK's largest suppliers of workwear we pride ourselves on consistently achieving over 95% stock availability across our most popular catalogue products. We are able to do this because Alexandra has invested in an advanced demand forecasting system produced by TXT, an international supplier to the Fashion, Retail and Manufacturing sectors.
This provides our purchasing teams with crucial insight of demand trends to help us manage our manufacturing, supply and stock-holding more effectively. As a client of Alexandra you will benefit from improved stock management and visibility allowing us to work collaboratively with you and our suppliers to ensure we get the right products delivered, to the right people at the right time.
Electronic Data Interchanges (EDI's)
Alexandra are able to support our clients using a variety of Electronic Data Interchange platforms (EDI's) which can are used to eliminate the need for paper documents being exchanged between us, as data is transferred from system to system electronically.
EDI improves the speed of ordering, order entry accuracy and provides a positive cost benefit to all parties.
Your Account Manager and our Client Services team will consult with you and provide technical support to implement the most appropriate platform or file transfer method, and will agree the data and documents to be shared and how they will be maintained throughout. Once all the requirements are agreed, testing will take place to ensure that there is a smooth transition to using EDI.
E-Procurement Catalogues
Alexandra are able to support our clients who use eProcurement solutions to manage ordering and invoicing within their organisation. eCatalogue management systems work to maintain the quality of product information data and are configured to your organisations required format to support simple navigation for online ordering and payment. Products are presented in categories with attributes allowing quick navigation and search.
As a dynamic process, it enables us to quickly broadcast product and price changes, and introduce new items into your product catalogue when agreed.
eCatalogues improve organisational processes, bringing efficiencies through automation and procurement control. Your Account Manager will discuss these options and can recommend solutions fit for your requirements.
---
Alexandra Product Information Feeds
Our trade merchant product feed is a live CSV file which can be downloaded on request from the internet. It provides a complete list of all Alexandra products plus current discontinued or sale items. This can be quickly integrated into your website or system functionality. Available 24/7 and updated twice daily, the feed can be scheduled to co-ordinate with your own operating schedules.
The Alexandra Product Feed provides you with access to such details as:
Product, colour and size codes
Low resolution product images
Full product descriptions – including fabric composition, sizing, measurements etc
Easy-to-use size guides
Live stock availability
Stock alternatives and suggestions.
Clear, Accountable Invoicing & Account Tracking
Alexandra can provide a choice of invoicing options to suit your organisation. When you set up an account with us, your advisor will ask you how you would like to be invoiced:
Individual invoices against goods despatched
Individual invoices segmented by each delivery address
Invoices matched to your approved Purchase Order
Consolidated invoices - weekly, monthly or on your chosen day or date to a single billing address
We can provide invoicing via email, post, EDI or CSV file. If you need to change your invoicing preferences at any time, simply discuss your requirements with your Account Manager.
---