About our drive for ethical workwear
Find out how Alexandra is committed to
ethical and sustainable practices
in everything we do.
At Alexandra, we've been designing and manufacturing our garments since 1854, which means we know a thing or two about what it means to be sustainable.
Over those years, we supplied material for nurses' uniforms during the war effort, partnered with the NHS to develop more environmentally friendly PPE and helped millions of people worldwide work in comfort and style. All to remain true to our core principles of quality, good design and reliable service.
We've done a lot in our first 160+ years, but there's still more to do. So here are all the ways we're committed to supplying the UK and the broader world with ethical workwear:
We believe in sustainable fashion
At Alexandra, we're constantly looking for new ways to reduce our garments' impact on the environment. The primary way we're doing this is by ensuring everything we make is of high quality and built to last. All of our own brand clothing comes with a two-year guarantee from the delivery date and is among the most durable workwear you'll find anywhere in the UK.
By making clothing that lasts, we decrease the amount of new clothing that needs to be made and reduce the strain on the planet.
We're making our products eco-friendly
We appreciate that making anything uses the Earth's natural resources, so we're committed to making our products eco-friendly where possible.
For example, when the NHS asked us to collaborate with them on their Greener NHS scheme, a scheme aiming to reduce the health service's carbon emissions to net-zero by 2040, we got to work.
The NHS wanted us to help ease the problem of plastic waste caused by PPE. Personal protective equipment is usually plastic, single-use and disposable because it has to be sterile, which is bad for the environment.
We created a reusable theatre cap in designs suitable for men and women. Making it reusable ceases the need to wear a disposable theatre cap, which reduces the amount of plastic going to landfill. It also reduces the need to manufacture so many caps, which helps conserve the planet's resources.
Our theatre cap is one small story in an entire drive towards being more environmentally aware. We continue to find new ways of making existing products more eco-friendly.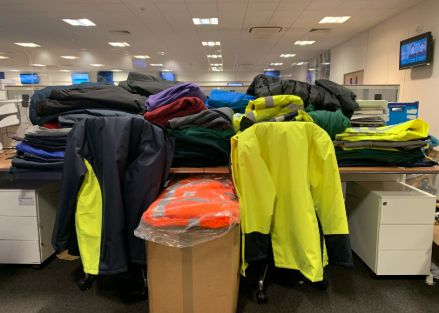 We take pride in our social responsibility
We understand that treating the planet well begins with treating each other well, which is why Alexandra has always been committed to social responsibility.
However, many don't realise that Alexandra became a workwear designer because of this commitment. Alexandra began life as a leading fashion brand, but during WWI, we switched to manufacturing material for nurses uniforms to help with the war effort. Realising we could help people find comfort and style in what they wear to work, we never turned back and went on to become one of the UK's leading workwear brands.
Today, we still pride ourselves on being one of the UK's ethical brands. For example, in March 2021, we supported our local homeless charity by donating 100 outdoor clothing items to help keep people warm. In February 2021, we donated 100 t-shirts to an online community supporting furloughed employees. And in July 2021, our team took on the Snowdon Challenge for Nurses' Trust, where we raised and donated £13,000 for the charity.
Every year, we aim to do the things that make huge positive differences to people's lives in the UK and worldwide.
We only use ethical supply chains
At Alexandra, we believe in making sure every person involved in manufacturing our products is treated fairly, with respect and with the support they need. We're responsible for everyone from our employees to the workers who make the necessary raw materials for our garments.
In 2021 we joined forces with Sodexo UK and Ireland to combat modern slavery across global supply chains. As part of a new initiative, Alexandra has helped launch the Modern Slavery Supplier Forum where members discuss the impact of the lives of 40 million people working worldwide. This forum is essential for aligning whistleblowing policies and procedures to ensure all employees are comfortable reporting in confidence any unethical, illegal or unsafe issue.
Alongside the Sodexo partnership, we're also trade certified. We've been part of the Mi Hub Group and a signatory of the Ethical Trading Initiative for the past 15 years. The group adheres to a code to ensure employees are treated ethically and rewarded fairly for their work.
We're also members of the Slave-Free Alliance, a social enterprise and membership initiative launched by anti-slavery charity Hope for Justice which supports businesses on their modern slavery strategy and business policies.
At Alexandra we're always looking for ways to safeguard everyone involved in the process of bringing our garments to the world.
We use industry-leading sustainable materials
We're committed to using sustainable materials in our products wherever possible. So, for example, many of our own brand garments are made with organic cotton and recycled polyester, and we're developing new ways to incorporate them further across our wide range of products.
Relaunched in 2020 with a focus on ethical clothing, our Boyd Cooper Made to Order range focuses on eco-friendly material. Many of the garments featured are available in Tencel fabric, a new 100% sustainably sourced and biodegradable fabric made in part from Eucalyptus pulp. Tencel is high quality, durable and environmentally friendly and is precisely the kind of material we want to use more of moving forward.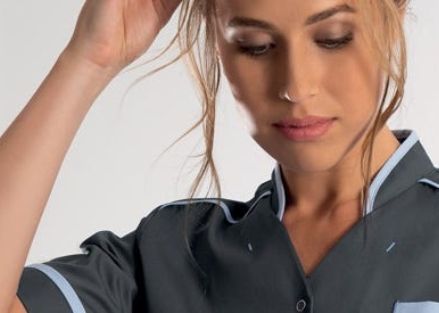 We educate our staff on ethical practises
At Alexandra, we continue to educate our staff on the importance of ethical workwear standards and maintain our high standards by holding ethical buying workshops.
These workshops tool up our colleagues on the current definitions of ethical trade, including the current trends, issues and challenges facing those working within the industry.
They also train our staff in ethical purchasing practises by highlighting the impact they have on suppliers and workers and what good practises look like.
By bringing all of these ideas and resources together, we ensure our team are equipped to make Alexandra the best home for ethical workwear.