Colour coding shows patients 'who's who' at Ipswich Hospital
With 595 beds, Ipswich Hospital is one of the largest hospitals in England, caring for more than 400,000 patients every year. Rated 'Good' by the Care Quality Commission, Ipswich has always placed nursing and care of patients at the very heart of the hospital.
"Up to 3,400 staff work within the hospital, so it's extremely important that our patients know who is treating them and that they feel reassured and confident in the care they receive." Says Sarah Seeley, Transformation Lead Nurse. "We looked again at our nursing uniforms to improve both visibility and perception of their role. We chose traditional nursing tunics made by Alexandra because they look smart and professional. They also save the hospital around £15,000 a year, compared to our previous uniform range".
"We launched the uniform update on International Nurses Day" says Jennis Varghese, Category Manager, Procurement and Supplies. "The colours range from white (signifying a student nurse) through to black (the most senior rank) with a range of blues in between and contrasting piping. It has been the successful culmination of a very intensive process, but which has made a huge difference to the way both staff and patients feel about the importance of the nursing role".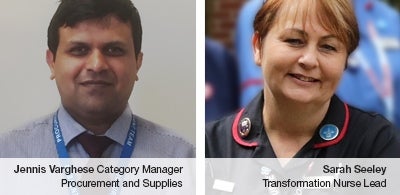 "We chose traditional nursing tunics made by Alexandra because they look smart and professional. They also save the hospital around £15,000 a year, compared to our previous uniform range"
Sarah Seeley, Transformation Lead Nurse